Cheap Nintendo Wii
The Wii is Nintendo's new home console which raises the bar in gaming. The most interactive console around and dam it's a addictive! Gone are the tapping of left and right, up and down... now you actually make the movements. Try the boxing and tennis and you'll feel like you're doing a work out.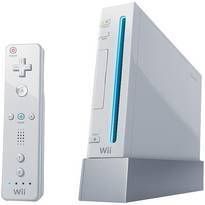 101cd.com
Nintendo Wii with sports bundle £164.89 including delivery >>
Amazon
Nintendo Wii with sports bundle £164.99 FREE delivery >>
Argos
Nintendo Wii with sports bundle £176.19 FREE delivery >>
Here's a cheaper alternative:
£75.00

That's £14.94 cheaper than the Amazon price
Amazon price £89.94 including delivery >>

Technical Details
- Motion Sensitive Games Console
- iPod/iPhone Dock
- Play music and films through your TV
- 10 Games including tennis, darts and bowling
- Compatible with latest 5th Gen iPod/iPhone
Wii games best sellers from Amazon
There are many different bundles in which you can buy the console. Wii Sports is a collection of fun and addictive arcade style sports games including a Tennis, Golf and Baseball game, all of which are played by swinging the Wii Remote like a bat, club or tennis racket as if you were playing the game in real life.
Includes:
- White Wii Console
- Wii Remote
- Wii AC adapter
- Wii Stereo AV cable
- Wii stand
- Wii stand plate
- Wii sensor bar
- Wii sensor bar stand
Specifications:
- Wii boasts 512 megabytes of internal flash memory, two USB 2.0 ports and built-in Wi-Fi capability. A bay for an SD memory card will let players expand the internal flash memory. Design was optimized with state-of-the-art processing technologies that minimize power consumption, keep the console compact and enable the "sleepless" WiiConnect24 mode.
- CPU: PowerPC CPU (code-named "Broadway"). Made with a 90 nm SOI CMOS process, jointly developed with and manufactured by IBM
- Graphics Processing Unit: Being developed with ATI.
- The Nunchuk controller allows players to use the Wii Remote in one hand while controlling other functions with an analogue stick using the other hand. It is motion sensitive like the main remote allowing players to use both hands in games.
- Other Features: Four ports for classic Nintendo GameCube controllers. Two slots for Nintendo GameCube Memory Cards. An AV Multi-output port for component, composite or S-video.